Merr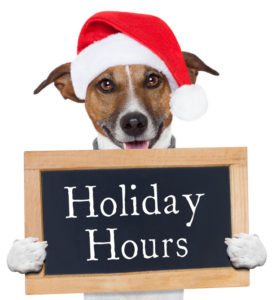 y Christmas and Happy Holidays from all of us at PetLift!  Below are our office hours during the holiday season.  On the days where our office is closed, we will be monitoring E-Mail and phone messages and will get back with you as soon as possible! PLEASE NOTE:  With our factory and facilities being closed the week after Christmas, all orders received during that time will ship out on or after January 2nd, 2020.
Dec 24 – Christmas Eve – 8 AM – 1 PM
Dec 25 – Christmas Day – CLOSED
Dec 26 – CLOSED
Dec 27 – CLOSED
Dec 30 – CLOSED
Dec 31 – CLOSED
January 1 – New Year's Day – CLOSED
Jan 2 – OPEN 8-5 (return to regular hours)
Feel free to call our office at 888.388.1159 or E-Mail us at customerservice@petlift.com.