PetLift was conceived with a specific mission in mind: to provide products that are specially designed to enhance the quality of care performed by groomers and veterinary professionals.
Innovation Driven By Animal Care Professionals
For years, we've worked closely with professionals at work in various fields of animal care. Their ideas and suggestions drive each of our designs, making PetLift products the most efficient and effective on the market today. In a sense you could say that our products have been developed by you, the animal care professional.
Making Animal Care Easier
PetLift has pioneered smart technology and better designs in grooming equipment. From the start, our goal has been to design and fabricate equipment that will make a professional handler's job easier. And we offer only top quality so our products will hold up under heavy use for years.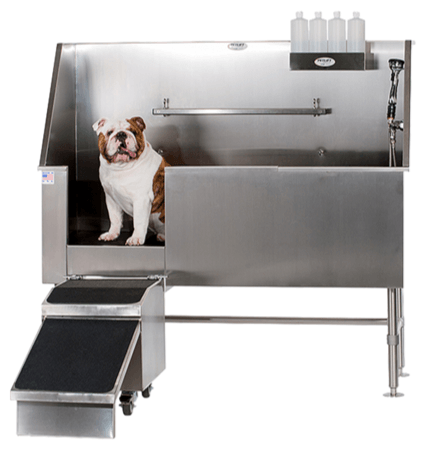 Quality and Excellence in Manufacturing
S&B Metal Products has been an industry leader in custom sheet metal fabrication for over 40 years. Together, with our knowledge in the animal care industry and their expertise in the manufacturing of sheet metal products, we have raised the bar as the combined company PetLift S&B Manufacturing.
Pet Tables & Tubs Recognized Industry-Wide
We are proud to have created a full line of pet tables and tubs that are award winning and recognized throughout the industry. We have worked hard to bring the most innovative and durable products to the market and are proud to say they are made in the U.S.A.
PetLift continually strives to be the company that you trust and rely on for all of your animal care equipment needs.